Clara's Soldier: A Retelling of The Nutcracker
A broken nutcracker, a missing soldier, and a godfather with enough magic for one Christmas wish.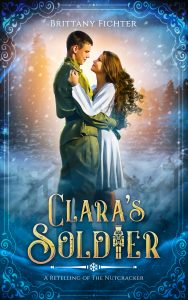 So I've wanted to write a Nutcracker retelling for a long time. It's not in my usual line of retellings, as its original version isn't from Hans Christian Andersen or the Brothers Grimm. But it is a fairy tale nonetheless, and it takes place in our own world, which adds a new level of intrigue. Up until now, however, I just couldn't figure it out. I couldn't come up with a "truthful" retelling. Because believe it or not, even fairy tales have to be truthful. If you fudge facts or refuse to let the magic take you where you need to go, the story will crumble.
Then came Ellie.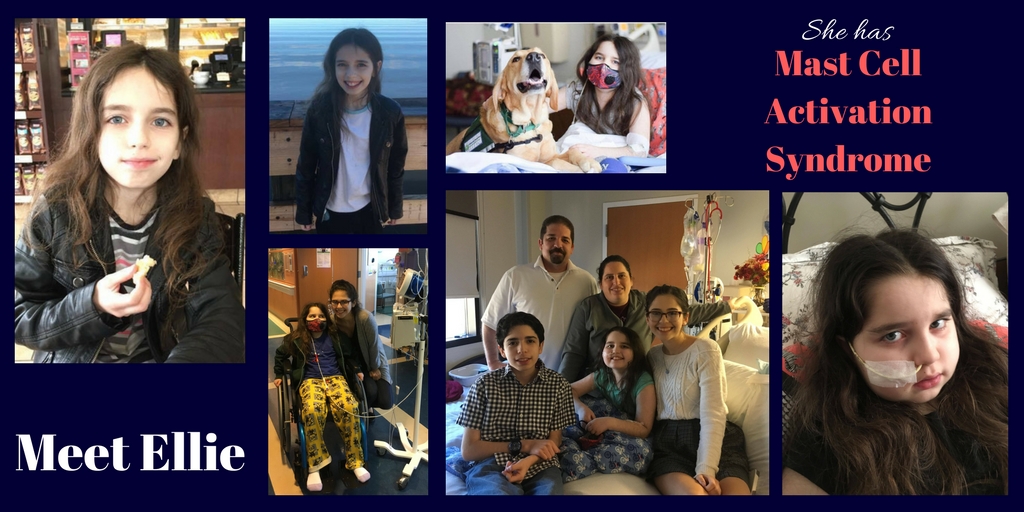 Meet Ellie.
Elliana "Ellie" Rogers is a sweet, vivacious 11-year-old who was mostly healthy until last year. But in August of 2016, when forest fires surrounded her home in Greenville, SC, she began to have what the doctors thought were severe asthmatic reactions in response to the smoke.
But it was far worse than they could have possibly conceived.
A Medical Mystery
Ellie's reactions continued to worsen. By December 2016 Ellie was reacting to not only smoke but many foods that she never reacted to previously, as well as chemicals, fragrances, gasoline, and more.
Because of the heavy steroids, she was forced to rely on to live, Ellie went from a very petite 47lbs to 36lbs in a matter of months. By January 2017 Ellie was admitted to the hospital for the first time.
Since then, the doctors have determined that Ellie has:
* Secondary Adrenal Insufficiency: her body doesn't produce cortisol (This means Ellie is now dependent on steroids to survive.)
* Mast Cell Activation Syndrome: a rare immunological disorder that causes severe and sometimes anaphylactic reactions (causes severe internal burning, nerve pain, bone pain, hives, flushing, swelling, severe gastrointestinal issues, headaches, blood pressure and heart rate problems)
* POTS (Postural orthostatic tachycardia syndrome) which causes her heart rate to skyrocket and blood pressure to plummet
*Amplified Musculoskeletal Pain Syndrome (where the body feels more pain than it should)
Each time they try to treat one disorder, another seems to worsen. Ellie is on her 7th hospitalization now. She has been admitted for more than a month and will continue to be hospitalized as she's tested for multiple other disorders.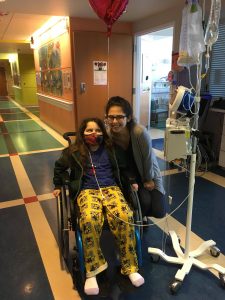 All her doctors say she is a medical mystery. She can no longer eat or drink any food. She is on a feeding tube 24 hours a day. She has a central line to her heart to help the severe dizziness. She can't leave her house except to go to the doctors because she reacts to all stores, airborne food, and what people wear on their bodies.
Ellie struggles with day-to-day struggles in ways that most of us wouldn't think twice about. When they needed to do a bone marrow biopsy, she had to endure the procedure without any painkiller because the painkiller sends her into anaphylaxis. And not only is she stuck in a wheelchair or hospital bed the majority of the time, but she's even unable to enjoy common pastimes, such as crayons or any toys or art projects with chemicals because they also send her into anaphylaxis.
She hasn't eaten in over a month now, either. Ellie went from being allergic to a few foods to being unable to eat or even smell food of any kind. She's now reliant solely on a feeding tube for her nutrition, and even that has its risks, as she had multiple reactions to her formula a few months ago.
God has continued to sustain Ellie throughout all of this, and she and her family trust that no matter how hard this path is, He is walking it with them to the destination that will be for their benefit and His glory. On that path, however, are many bumps and bruises, and they're still searching for new doctors and new treatments that might hold the promise of a bend in that path.
They need help.
This means lots of traveling between research facilities as new doctors examine her and join together to try and find a way to bring this little girl back to health. And all that traveling means generally driving, as airlines struggle to provide the kind of safe environment Ellie needs to move from one place to another. Unfortunately, the family vehicle isn't big enough to fit Ellie's wheelchair and carry the family where they need to go.
Where you and I come in…
One of Ellie's biggest needs is a wheelchair accessible vehicle that is large enough to fit her family's new needs. They're in the car for long periods of time, unfortunately, when they drive to different research facilities in different states, and being able to afford a vehicle that can comfortably fit everyone-and Ellie's wheelchair-would be a big help.
As a Christian, I believe that we all have different gifts, and God gives us those respective talents so that we can seek to glorify Him and love one another. And in my attempt at loving on this dear family, I've written "Clara's Soldier: A Retelling of the Nutcracker."
Like I said, this is awful. As a friend, it's been difficult to watch this unfold for over a year now and feel powerless to help. Their church has been providing meals and all the help they can manage, and friends can mail things every now and then, but they need something more. That's where you and I come in.
How "Clara's Soldier: A Retelling of The Nutcracker" was born:

So I'm not one to look for signs and wonders in all corners of life, but I do believe God orchestrates events for particular purposes. I've been wanting to do a Nutcracker retelling for a long time, but the more I thought about it, the more I struggled with nailing down a storyline. Then I had the idea for this fundraiser, but it wasn't until the HOUR I figured out how the fundraiser would work that the retelling came to me.
How's that for crazy?
Anyhow, here's how this is going to work:
Through January 31st, you can follow these steps to receive your ebook copy of "Clara's Soldier":
Step 1) Go to Ellie's GoFundMe Page and donate whatever amount you feel led to share.
Step 2) Forward the donation receipt to BrittanyFichterFiction@gmail.com.
Step 3) I'll send you a download link for your copy of Clara's Soldier.
Step 4) Please share this opportunity with anyone you think would be interested on Facebook, Twitter or word of mouth.
And pray. Please pray for this family. Give what you can, and please join us in lifting them up before God. Thank you so much for listening to Ellie's needs. If you have any questions or messages you would like to send to Janis, you can do so on the donation page. I wouldn't ask this of you if I didn't know that my readers are people with big hearts. You guys are awesome. Have a great week.
In Christ,
Brittany